THE "Color my lines. Win my junk." Coloring Costest is over. Here are our winners:

You can take a look at the
official judging numbers here
. Please have a look (for now I only have it in MS Excell format). Congratulations and thank you to all those who entered! Judging these was very hard and I was grateful to have two other judges cover 50% of the judging so that I will not take all the heat from those who feel they should have won. If this were a school assignment and I were the teacher I would add 10 points to everyone's score. The judges remarks are critical I know and I hope you will not take offense because the only person you can complain to is
me
. The thing about contests is that there are a lot of people who don't win. To you guys I would like to remind that you have gained the valuable experience of developing your coloring skills. I really hope this was fun for everyone and so far I have had a lot of positive feedback from it so I am considering doing it again someday (probably using this same URL). THANKS AGAIN TO EVERYONE WHO MADE THIS POSSIBLE!
The rest of the page is the original posting.

I have collected a lot of junk for artists over the years. Sometimes I sell my stuff on ebay, sometimes I give it away. While I am still selling my best stuff on eBay, I thought I would take some of the semi-good stuff and give it to some of the people I admire most - colorists!
Color one of the
images provided
for the contest. Submit your electronic copy of the colored work following the
instructions provided
. Submissions will be due on the 1 Aug 2006 when judging will begin and will finish a few days after. The winners will be annouced on the 7th Aug 2006. If there are three or more entrants, a first place will be awarded. If there are ten or more entrants a first and second place will be awarded and if there are twenty or more entrants, a first, second and third place will be awarded.The prizes will be awarded according to instructions.
INSTRUCTIONS:
1. Choose one of the following images to color (click the thumbnail to get the full image):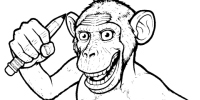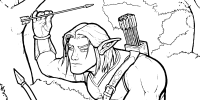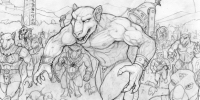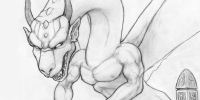 2. Submit your coloring to me. You may send it to me in an
email
, send me a note with a link on
deviantart.com
or get the image to me any other reasonable way. You can either attach the image (you do not need to send a hi-res file, preferably <5MB in size) or you may give me a link to where it might be hosted. If you do not know where to host an image, I suggest
opening a deviantART account
(if you want to) and hosting it there. I try to reply to everyone as soon as possible to inform them that I have received their entry. If you send in your submission and do not get a reply (within 5 days) saying that I have added your entry to the collection of images to be judged, please
email
me to verify that I have received your entry.
3. Await the judging. Judging will begin on the
submission deadline: 1 Aug 2006
. Judging will be done by me (50%) and (50%) by other people I know. The final judging will finish by the 7th Aug 2006 (this will give me and the other judges plenty of time).
4. Up to three winners will be selected. The number of winners awarded will be based on the number of entrants. If there are three or more entrants then there will be at least a first place winner. If there are more than ten entrants, then there will be a first and second place winners and if there are twenty or more entrants, then there will be a first, second and third place winner. They will be notified on the 7th Aug 2006 and asked to return an email to determine what prizes they should receive. Read more about this under prizes. The winners will be announced on this page shortly after the results are finalized.
SOME ENTRIES SO FAR:
Here is a sneak peak at the competition. You can find most of these entries somewhere on deviantART.com.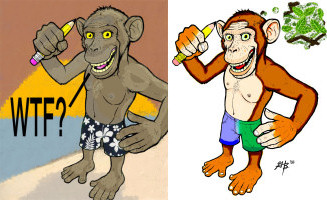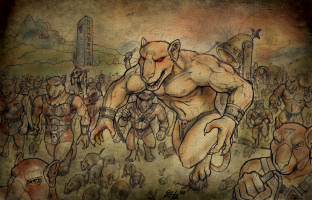 PRIZES:
The prizes come (mostly) from a giant collection of used art-related stuff I have. There are a total of 15 prizes. Not every prize will be given because the number of total prize points exceeds the number of all the places. Winners will receive prizes based on their preference and their points, which are different for each placing. Once again, the number of winners will be a maximum of three (if there are twenty or more entrants). Each prize is assigned a prize value (based on resale value). First place can collect up to 15 points worth of stuff. Second place can collect up to 10 points and 3rd place can collect up to 6 points of stuff. When the winners are notified by email, they will be asked to list all the prizes in order of preference to receive. Using a
simple algorithm
the prizes will be divied up among the winners. So what are the prizes?
| Photo | Prize Points | Prize | Descriptions | Resale Value |
| --- | --- | --- | --- | --- |
| | 7 | Paint Shop Pro Power Suite (PSP 8, Photo Album 4 and more) with manuals in retail box | Full legal copy in retail box. New in open box. Never registered. | $35.00 |
| | 6 | 1 Year Choice Membership Subscription to deviantART | Makes you a "choice" member on deviantART.com's online community for a year | $29.99 |
| | 6 | 1 Year Choice Membership Subscription to deviantART | Makes you a "choice" member on deviantART.com's online community for a year | $29.99 |
| | 3 | Paint Shop Pro 5.01 (and animation shop 1) /with manuals in retail box | Full legal copy in retail box. Winner becomes the 100% legit owner | $15.00 |
| | 2 | Old software collection in binder | Corel Draw 3, MGI Photosuite 3se, Adobe PhotoDeluxe 4 Home Edition and other older graphic software in a sturdy binder with cd-holding pages | $12.00 |
| | 2 | Broderbund Print Shop Premiere Edition (5.0) | Clipart and Photo collection on CD with 657 page full-color reference book | $10.00 |
| | 2 | EDITED (w/ black marker) GURU-eFX's How to Color for Comics w/ CD | Has been marked extensively, but many images are included on CD. 141 colored pages with 2 page quicksheet | $10.00 |
| | 1 | 36 Pastels in set and 12 Pencils | 36 Pentel Pastel set and 12 Sanford Pencils | $5.00 |
| | 1 | 12 Lumograph pencil set with box and sharpener | 12 Staedtler Mars Lumograph Artist Pencils (6B, 5B, 4B, 3B, 2B, B HB, F, H, 2H, 3H, 4H) w/ original tin (broken hinges) in pencil box w/ sharpener | $5.00 |
| | 1 | 5 Lumograph pencils and white charcoal pencil and black charcoal crayon | A mixed lot of pencils and charcoal | $5.00 |
| | 1 | Pentel .7mm Twist-Erase Mechanical Pencil | This is a new pencil (out of box). Comes with a long extendable eraser and three pieces of lead. | $3.50 |
| | 1 | Pentel .7mm Twist-Erase Mechanical Pencil | This is a new pencil (out of box). Comes with a long extendable eraser and three pieces of lead. | $3.50 |
| | 1 | Pentel .7mm Twist-Erase Mechanical Pencil | This is a new pencil (out of box). Comes with a long extendable eraser and three pieces of lead. | $3.50 |
| | 1 | Pentel .7mm Twist-Erase Mechanical Pencil | This is a new pencil (out of box). Comes with a long extendable eraser and three pieces of lead. | $3.50 |
| | 1 | Pentel .7mm Twist-Erase Mechanical Pencil | This is a new pencil (out of box). Comes with a long extendable eraser and three pieces of lead. | $3.50 |